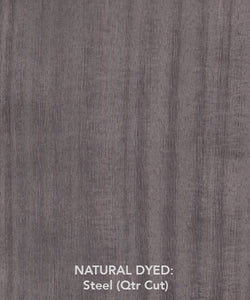 NATURAL DYED: Steel (Qtr Cut)
Impression Natural Dyed Veneers
Impression Veneers are also presenting to the architectural market a range of colours produced from Eucalyptus which has been dyed.
The Eucalyptus veneer log is sourced from sustainable forests, sliced, graded, packed and shipped to Italy to be dyed using the worlds most advanced dyeing technology. In saying this,we have still been able to bring to the market a very inexpensive veneer that provides a very sophisticated look.
 This dyeing process fully impregnates the veneer throughout the whole width and thickness guaranteeing a more consistent colour blend for your finished project.
 These dyed veneers are generally slipped matched during the making of the veneer sheets, this avoids the stripy affect sometimes associated book-matching. Although slight variations may apply to different batch lots when dyeing, large projects using dyed veneers generally have a more uniform finish upon completion than natural veneers.
 These colours present an exciting range of options for your next project.
 Dyed veneers benefit from careful finishing and some lacquers and thinners can cause serious damage to the veneers. Please take time to read our information sheet.
 Impression Veneers range of veneer products are beautifully enhanced by a variety of lacquers and finishes.
 All timber products undergo supple changes over a period of time and the correct finish is vital to keep your project looking good well into the future.
 Many veneers are open grained and exhibit a roughness to the surface after polishing. A smooth finish is obtained by choking the grain and should be specified as "fully choked".
 Many veneers perform aesthetically better slip-matched rather than book-matched. We recommend that our straight grain recon products are slip-matched however the final decision will lay with the client.
 Depending on product placement, exposure to UV light can have a deteriorating effect on all veneer products and a high quality, 2 pack Acrylic-urethane, with non yellowing and UV inhibitors included is highly recommended in the sealer and top coats are highly recommended for this application.
 We recommend Fabricators test their coating products for suitability to the desired application regarding colour stability, wear, hardness and gloss level.
 As a general industry guide gloss levels can be described as
0-10%
Matt
10-25%
Low Sheen
25-50%
Satin
50-80%
Semi Gloss
80% +
High Gloss
As any surface finish will change the colour and look of veneer products, we strongly recommend that a sample finished in the required gloss level is sought from your cabinetmaker and that fabrication tests are conducted to determine the colour change applicable to your individual project.
 Impression Veneers will acknowledge the inherent quality of its veneer products however discolouration due to excessive exposure to sunlight or ultraviolet light cannot be considered a defect. Impression Veneers may discontinue any product without notice at any time.
 Lengths available will range from 250cm -310cm and veneer structure will be quarter cut.