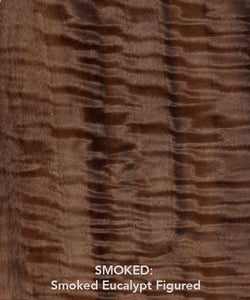 IMPRESSION VENEERS SMOKED: Eucalypt Figured
Impression Smoked Veneers
A natural interplay of colours
As long ago as the Middle Ages the smoking technique was being used to even out differences in tone on wooden surfaces and achieve a hazelnut to deep chocolate colour with an elegant natural sheen. The practice fell into disuse in recent years because of the decline in popularity of dark woods. Now with the resurgence of darker colours the smoking process again has become very popular.The differences in the tannic acid content of the wood cause slight variations in colour with unique light-and-dark shadow effects. In timber where the formation of heartwood is incomplete, areas of light-coloured sapwood remain visible after smoking. These characteristics are typical of the Eucalypt, European oaks and give smoked veneers its unmistakable natural identity.
Smoking with modern technology
Nowadays woods such as Eucalypt, Oaks,acacia or larch are 'smoked' or fumed by treating them with ammonia (NH3). This changes the surface colour after a short time and modifies the colouring throughout the entire work piece after a longer period. The colour is then, in contrast to other untreated or dyed woods, almost totally resistant to ageing and the effects of light. In addition, the physical properties of the wood are improved: it becomes more elastic, less brittle and easier to work and process. Smoked woods offer the designer a completely new range of colours.